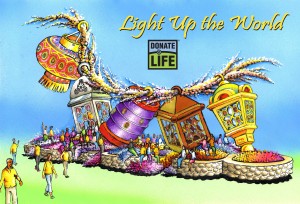 SAN DIEGO, Calif., Sept. 24, 2013 – Living Donation California is pleased to announce its first-ever sponsorship of a rider on the 11th annual Donate Life float in the 2014 Rose Parade. JePahl White, a kidney recipient, will "Light Up the World" with 29 other organ, eye and tissue transplant recipients on the float on January 1, 2014.
Thanks to JePahl's persistent and loving wife, LaKishia White, JePahl was part of a kidney chain at UC Davis Medical Center in Sacramento in 2010 in which LaKishia donated a kidney on his behalf. Her kidney went to someone in Pennsylvania. In return, JePahl received a kidney from living donor Jessica Jurado of Sacramento, who donated on behalf of her mother, Berta Jurado. Berta then received a kidney from a woman in Santa Barbara.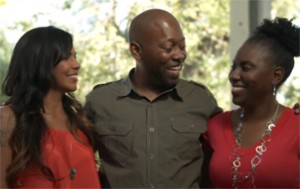 "I have a new family bond with Jessica and enjoy the new 'sister' in our family," JePahl acknowledged. "I believe the gift of life crosses all color lines, genders, and ethnicities; it is a beautiful way to honor the uniqueness of all human beings."
JePahl, LaKishia and Jessica are all featured on the Educational Videos page on the Living Donation California website and JePahl spoke at the launch of the program in Sacramento on May 14, 2013. Watch his full story – "Triple Threat".
Two other float riders were also freed from a life of dialysis by family members who volunteered to be their living donors. John Cervantes of Chino received a kidney from his brother Michael. Craig Hostert of Fullerton, is now a two-time kidney recipient via living donors. His first living donor was his wife, Kathleen. Then, 14 years later, their son Justin gave his father the same gift. Justin, Kathleen, Michael, Jessica and LaKishia will all be among a contingent of 12 walkers who will accompany the float on its five-mile journey.
The Rose Parade is seen by tens of millions of people across the U.S. and around the world on New Year's Day. To meet all of the riders who will be on the 2014 Donate Life Rose Parade float, click here. To read the full news release, click here.
Contact:
Brianne Mundy
Program Manager
Living Donation California
brianne@livingdonationca.org
Buy levitra ask the friend or the girlfriend to test our production directly on a place. Everything depends on that who is pleasant to you. With the girl it is simpler. Her ask to become about you and to sit down on this chair.