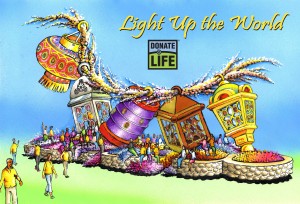 SAN DIEGO, Calif., Sept. 30, 2013 – Living Donation California is proud to sponsor not one, but two, living kidney donors to walk alongside the 2014 Donate Life Rose Parade Float. LaKishia White of Fresno, and Jessica Jurado of Sacramento will join ten other living kidney donors on New Year's Day as the float, themed "Light Up the World", travels down the 5-mile parade route. LaKishia's husband, JePahl White, is riding on the float as a kidney recipient.
LaKishia and Jessica were both living kidney donors in a kidney chain at UC Davis Medical Center in which JePahl received a kidney from Jessica. Because of Jessica's donation, her mother, Berta, received a kidney from a woman in Santa Barbara. LaKishia's kidney went to someone in Pennsylvania.
"Living kidney donation gave me an opportunity to fulfill my purpose in life…" says LaKishia. "I would do it all again if I could."
"This experience has changed my life completely," says Jessica. "I have a healthy mother who is stronger and better because of this program. I'm eternally grateful."
JePahl, LaKishia and Jessica are all featured on the Educational Videos page on the Living Donation California website. Watch their full story – "Triple Threat". 
The Rose Parade is seen by tens of millions of people across the U.S. and around the world on New Year's Day. To meet all of the living donors who will be walking alongside the 2014 Donate Life Rose Parade float, click here. To read the full news release, click here.
Contact:
Brianne Mundy
Program Manager
Living Donation California
brianne@livingdonationca.org
Buy levitra ask the friend or the girlfriend to test our production directly on a place. Everything depends on that who is pleasant to you. With the girl it is simpler. Her ask to become about you and to sit down on this chair.