Newport Beach, CA
Living Kidney Donor
"Living donation is a blessing for both donor and recipient!"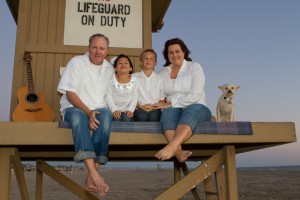 On January 1, 2013 I sat in my living room and enjoyed the Rose Parade with my family. As I watched the organ donation float with donors and their recipients sitting side by side, I started to think about the few times in my life I faced an opportunity to offer up one of my kidneys to save a life.  One patient, a friend's son who had been born with a congenital abnormality, was in renal failure for the 2nd time after donation from his father years earlier was now failing.  I was unable to follow through with donating in the time of his need and had often felt disappointed about that.  I turned to my husband on this New Year's Day and announced that this would be the year I would donate my kidney to help a stranger.
My husband looked at me like I was crazy. Despite the look, he knew I was serious and when I say I want to do something, very few things will stand in my way.
After doing some research online, I discovered a Facebook page for those in need of a kidney transplant and posted a comment that I was willing to give my O+ kidney to whoever needed it. The first person to comment was Eddie Beatrice from North Reading, Massachusetts. Eddie explained that he was in stage 5 renal failure from complications resulting from a rotator cuff surgery in 2011. He was now spending 12 hours a week on dialysis and feeling desperate enough to reach out to a stranger for help. Many of Eddie's family and friends had gone through the vigorous screening process but for one reason or another were not suitable donors. I felt compelled to help Eddie get his life back.
The first trip to Boston was February 27, 2013 for two full days of evaluations that included examination of my psyche as well as my health. Imaging, including radiographs and a contrast abdominal CT, were done to assure I was healthy. All tests were normal and the committee of doctors, nurses and social workers cleared me as a donor candidate. Surgery was scheduled for April 2, 2013.
My surgery was first, and Eddie was wheeled into an adjoining room three hours later. The family and friends gathered in the Massachusetts General Hospital waiting room broke out in cheers when they heard the news that the kidney had successfully been transplanted and it was working right away!
Recovery was up and down for Eddie and me with good days and bad. We touch base regularly to see how each other is doing. I will never have a bigger accomplishment in my life than having one of MY kidneys working inside of another human who may have died without it. Living donation is a blessing for both donor and recipient! I am happy to share my story – there may be others willing to save a life!