San Diego, CA
Living Kidney Donor
"I wanted to free someone so they could live life."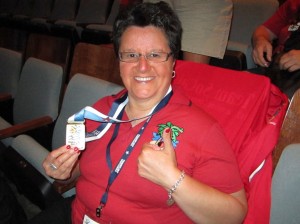 Lorena Rodriguez is no stranger to the challenges that kidney failure patients endure. She works at a medical office in San Diego that focuses on caring for people with kidney disease.
Through her work she has witnessed the bravery of patients facing grueling dialysis treatments and the desperation of waiting on the transplant list.
That experience prompted Lorena to call Sharp Memorial Hospital and offer to be an altruistic kidney donor.
"Two years ago I decided I wanted to help," said Lorena, who would have to lose weight and improve her blood pressure in order to be a donor. "I wanted to free someone so they could live life and spend that time with their family and friends."
Lorena's decision to donate a lifesaving kidney not only transformed the life of an extremely grateful patient, but also prompted her to dramatically improve her own health. Doctors told Lorena that she needed to lose weight before she could undergo surgery and she was determined to get in shape.
Over two years, she walked three miles every day after work and cut out junk food — including her beloved Cheetos and Saladitos Mexican treats — to lose more than 45 pounds, lower her blood pressure and qualify for kidney surgery. After a lot of hard work on the treadmill, and support from her coworkers who accompanied her on hikes around San Diego, Lorena underwent a successful surgery in February 2011.
Lorena says she was thrilled to restore the quality of life to her organ recipient, Monique McCray, whose aunt Ria Curtis underwent surgery the same day at Sharp to donate her kidney, continuing the chain of transplants. She is also pleased to again indulge in her favorite snacks, now in moderation.